BIOGRAPHY
VARDIS were forged out of Glam, Punk, Heavy Metal, Blues and Rock 'n' Roll in the crucible of 1970s northern England. They are a product of rock music across three generations: inspired by the great Rockers and electric bluesmen of the 50s and 60s, learning their trade rubbing shoulders with the young guns of Hard Rock and Punk in the 70s, and achieving prominence in the 80s as part of the New Wave of British Heavy Metal. The hard, ferocious attack of their sound directly influenced the development of thrash and speed metal across North America and Europe, cited by metal giants such as Metallica and Megadeth. Never losing sight of the melodic, boogie sensibilities of their earliest influences, the Vardis brand of Hard Rock retains a unique heavy groove, and has endured as truly original.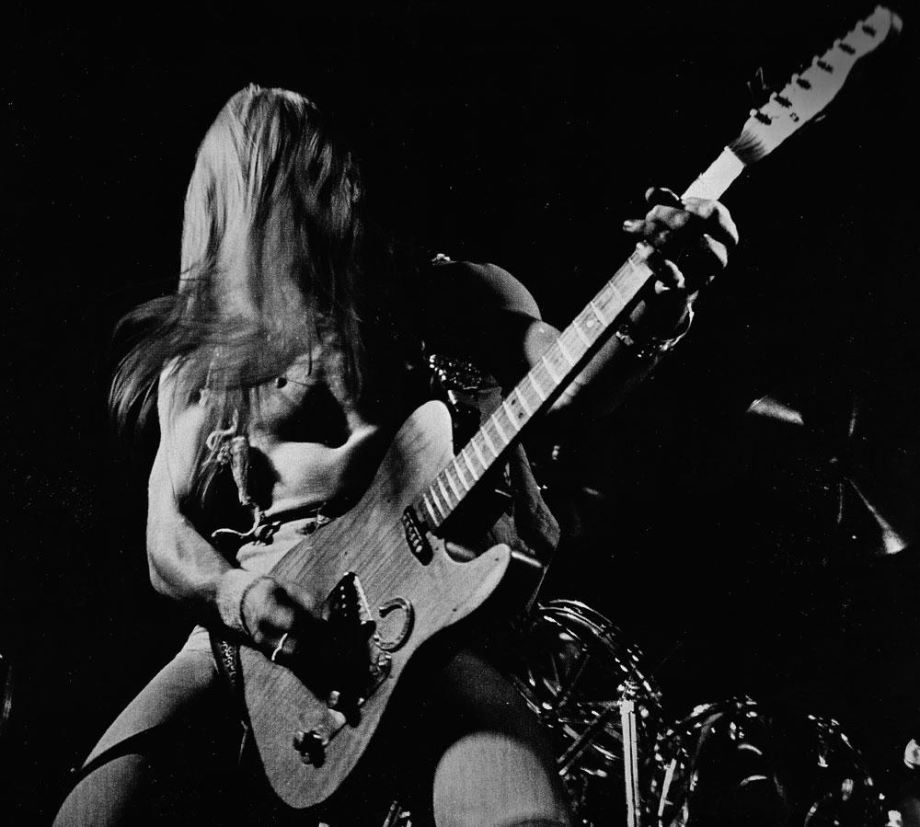 LET'S GO!
Steve Zodiac was lucky to be a teenager in one of the most fertile decades in music history, the 1970s. He formed 'Quo Vardis' as a five-piece rock 'n' roll band in 1973, at the age of 16. Before long, Vardis ditched the 'Quo' and four had become three, and the trio honed their craft in the Working Men's Club circuit of northern England, where anything less than total commitment was treated without mercy. The lineup of Zodiac (G/V), Alan Selway (B) and Phil Medley (D) released the self-funded 100 M.P.H. EP on Redball in 1979, which bought the band major label attention. Gary Person replaced Medley on drums, and Vardis signed with Logo Records.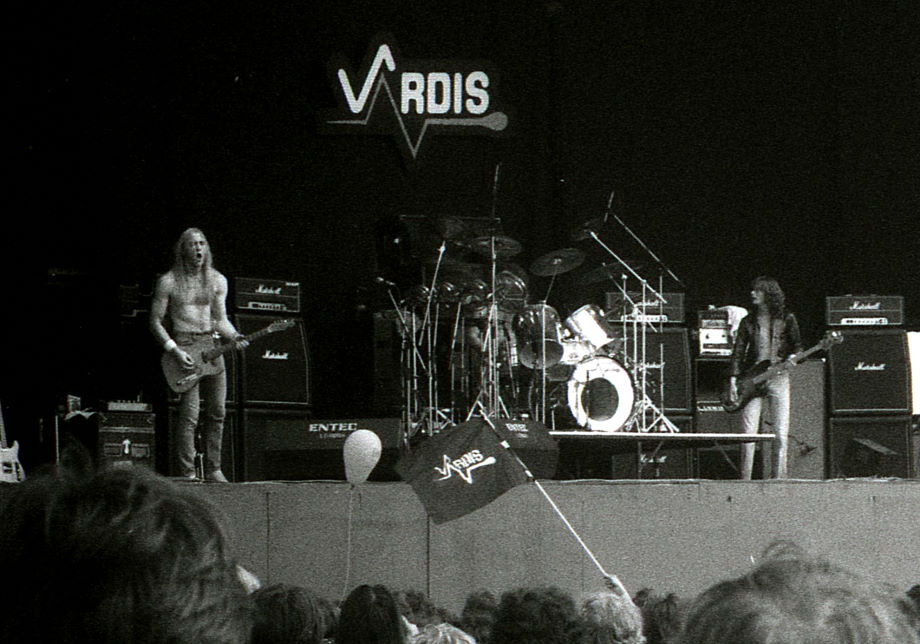 IF I WERE KING I'D ROCK AND ROLL...
Vardis quickly gained notoriety and a big live following due to their high energy, no holds barred performances, incorporating elements of blues, 70's Glam Rock and Heavy Metal with Zodiac's searing, untamed Telecaster sound. In 1980 they released the entirely live, classic debut album 100 M.P.H. that famously "GUARANTEED NO OVERDUBS", before hitting the road in a brutal touring schedule. Kicking off with the infamous Heavy Metal Barn Dance alongside Motörhead, Saxon, Girlschool and Angel Witch at Stafford's Bingley Hall in July, Vardis then joined Hawkwind on the 33 date Levitation Tour before embarking on their own 100 M.P.H. Tour which saw them though to January '81. Flying high through this period the band regularly hit the top of the Heavy Metal Charts, and unusually for the NWoBHM, made inroads into the UK singles and album Top 100. Keeping up the momentum in '81, the band toured their first studio album The World's Insane, recorded their BBC Session for Tommy Vance's Friday Rock Show and played the legendary Heavy Metal Holocaust in August alongside Motörhead, Ozzy Osbourne, Frank Marino, Triumph and Riot. The end of the year saw Logo release a compilation of Vardis singles and B-Sides, Metal Power.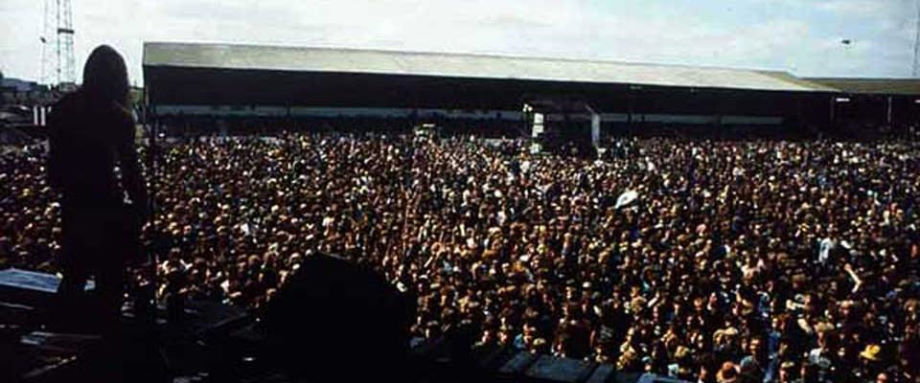 1982 saw Zodiac placed in the world's top 15 rock guitarists by Sounds Magazine, as Vardis embarked on a UK Tour with Slade and their own European Tour supporting their third album Quo Vardis. Like the previous studio album The World's Insane, Quo Vardis remained hard and fast but pushed the boundaries of Heavy Metal – Saxophones, Bagpipes and Mandolins alongside collaboration with Squeeze's Jools Holland and Status Quo's Andy Brown caused some confusion amongst rock journalists, who struggled to quantify the band's sense of fun and experimentation. This led to mixed reviews from some of the established Heavy Metal press, alongside support from more open-minded journalists and DJs, with John Peel championing the trio's direction on BBC Radio 1. Despite the release of the band's first Best Of compilation, The Lions Share (1983), a conservative attitude to their studio genre bending would turn out to be the least of Vardis' troubles…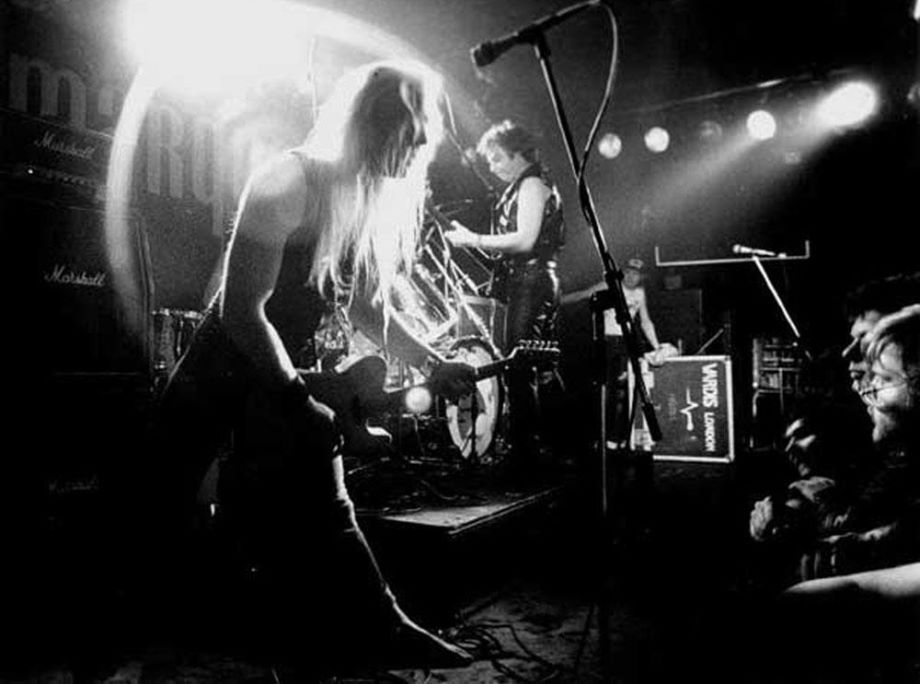 ALL YOU DO IS TAKE AND YOU'RE ALWAYS ON THE MAKE
Vardis' Management and Publishing companies, accustomed to placating their disgruntled, unpaid artists with a line of baking soda and £20 for the fruit machine, found Zodiac no easy man to manipulate. Ripped off for earnings and rights, he took court action and won back his songs in a two-year legal battle causing a lengthy and undesired hiatus. 1984 saw Selway leave the group, replaced by Terry Horbury, who after playing with Dirty Tricks, Ozzy Osbourne and McKitty in the 70's, had short stints with Winner and Strategy before joining Vardis. This lineup recorded the stripped down, balls to the wall, Vigilante for Raw Power in '86, a vicious indictment of industry use and abuse of original artists. Pearson quit the band after recording wrapped, so Zodiac and Horbury promoted the record live with Rogue Male's Steve Kingsley on drums. Zodiac, disillusioned with the music business, walked away for good and Horbury played on with the Kofi Baker band.
RHETORIC FROM REALITY
Nothing was heard from the band for nearly three decades, despite the release of two compilation albums: The Best of Vardis (1997) and the double CD The World's Gone Mad: The Best of Vardis (2002). In 2014, Zodiac began remastering Vigilante, and to coincide with the re-release on Hoplite Records, Vardis reunited with the Zodiac/Horbury/Person lineup. In March 2014 they headlined Brofest II, going on to perform at festivals in England and Germany before an emotional homecoming show at Unity Hall, Wakefield, where it all began.
After the warm reception of fans at the reunion shows, Zodiac and Horbury not only felt at the top of their game, but that they had more gears to hit, and so decided to continue. Recruiting the dynamic powerhouse Joe Clancy (ex- Black Orkhyd, Crimson Kiss and Michael Söbygge), who had spent the previous ten years on drums with Adrian Smith's (Iron Maiden) side project blues band, Vardis set to work on their first new material in nearly 30 years. To mark the start of a new era, this lineup released 200 M.P.H. EP in June '15 to critical acclaim; with a live launch show at London's Bush Hall. Starting work on a full album, in November 2015 Vardis penned a worldwide deal with SPV/Steamhammer, who announced the release of the band's fifth major album, Red Eye, was scheduled for 2016. Recording sessions for Red Eye saw the band hit new heights in chemistry and performance, despite Horbury being in some physical discomfort. In a matter of days after recording wrapped, Terry Horbury was admitted to hospital for tests in London and died on December 15th, only two weeks after being diagnosed with cancer. After this tragic loss, Zodiac and Clancy focused all energy into completing the production of Red Eye in memory of their friend and bandmate. Horbury expressed his wish for Vardis to continue. Session bassist Martin Connolly (ex-Rick Wakeman, Paul Fox, The Entire Population of Hackney) was recruited to fulfil booked commitments and the band rebuilt their high-energy live show to honour the 2016/17 tour dates.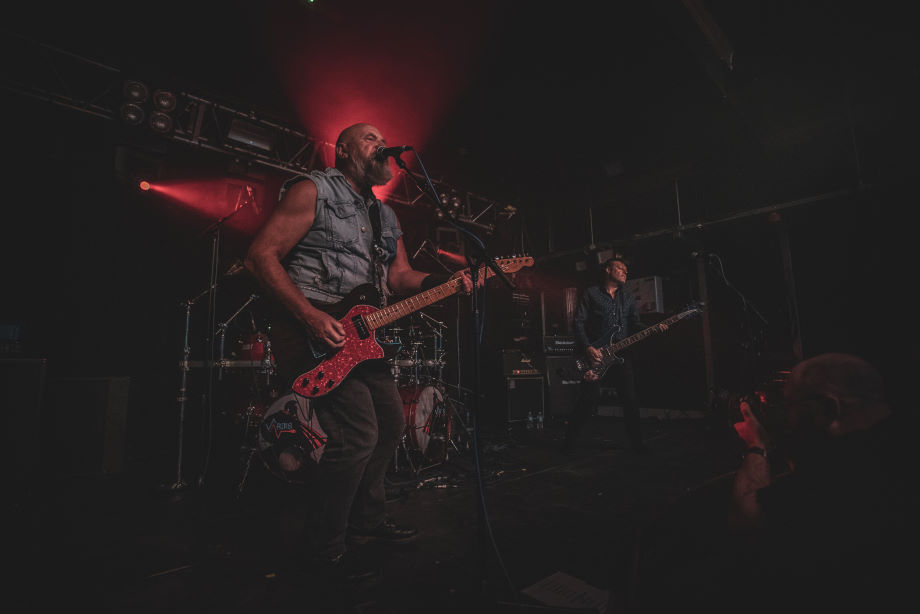 LET'S GO Again!
2019 sees Vardis galvanize with Mr Roly Bailey on bass - a hidden treasure who regularly performs playing a range of instruments with the Zappaesque funk metal outfit Sack Trick. He also has his own indi-folk band, Bittersweet, playing and recording his own material with a couple of albums released. Jamming on bass with Steve and Joe brought out a special chemistry and a fresh contemporary sound, it was inevitable he joined Vardis. His input has contributed greatly to revitalising Vardis, who had been stunned and temporarily derailed by the sudden death of Terry Horbury. Roly Bailey on Bass guitar brought forth a storming set at Uprising @ O2 Academy Leicester alongside Napalm Death, Memoriam & Acid Reign...
Vardis appear at Londons historic 100 club for a triumphant 40th anniversary celebration of 100mph. On the eve of Lock-down 2020....next?
Record Collector Live review Vardis 100 Club London 13/3/20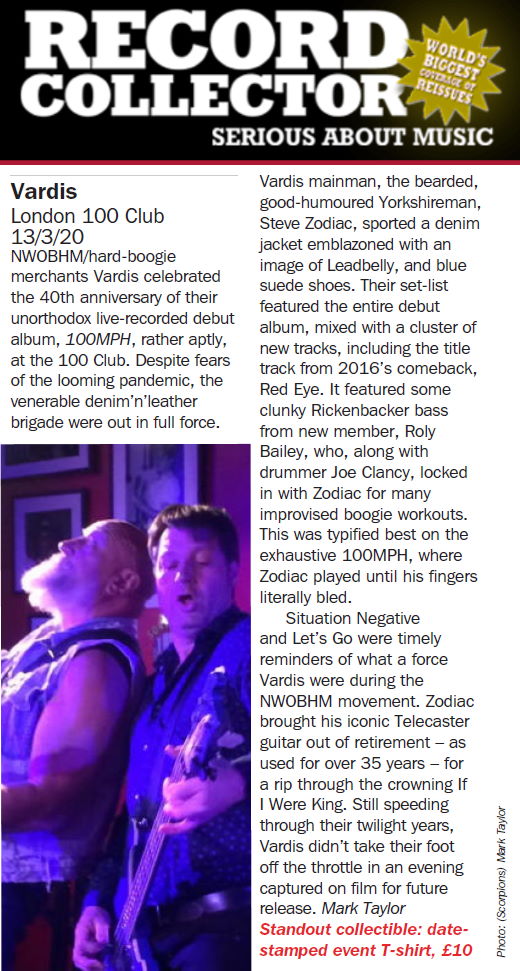 MMH Vardis Live review 100 Club London 13/3/2020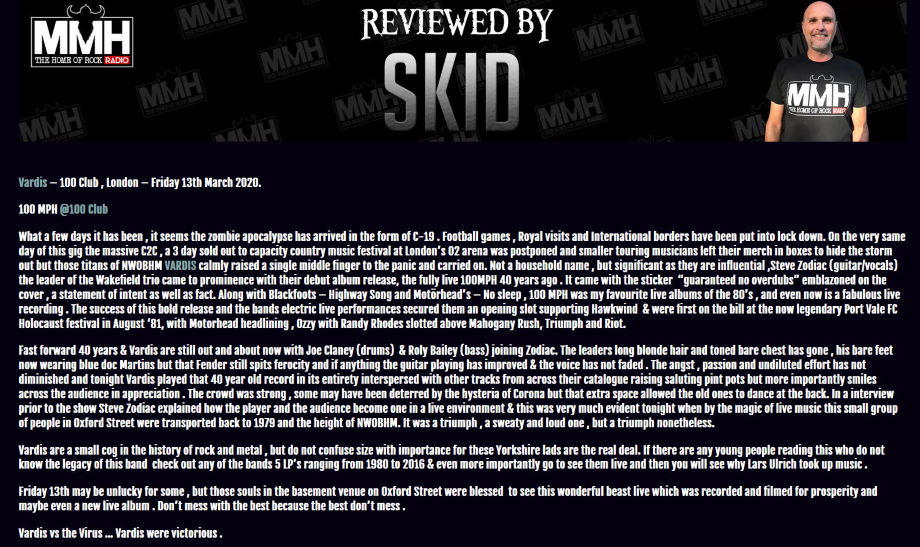 Total Rock - Vardis 100 Club London Review 13/3/2020