Sharing
Archives
Vardis bass man Alan Selway returns!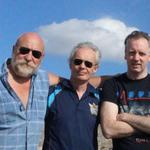 4 Oct 2018
Steve Zodiac & Joe Clancy, thank Martin Connolly for doing a great job helping us to fulfil live commitments after the tragic loss of Terry Horbury.
Zodiac and Clancy will, from now on, be working with some very special guest bass players. We are delighted to announce that original Vardis bass man, Alan Selway, has been recording once again with Vardis in Zervos Sound Studio, Kalymnos Island and are very excited with the dynamic. Power underfoot!