Archives
VARDIS + DIAMOND HEAD @ Bush Hall, London 18/7/15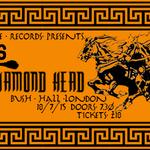 9 May 2015
TICKETS ON SALE NOW for a special show to launch 200 M.P.H EP
We are delighted to be debuting the 200 M.P.H EP in London alongside Diamond Head! 200 individually numbered limited edition 12" vinyl copies will be exlusively available at the show, as well as the CD two days before official release date.
310 Uxbridge Road, London W12 7LJ
Tickets are available here
***
Hoplite Records proudly present VARDIS and DIAMOND HEAD: two of the finest bands to have emerged from the New Wave of British Heavy Metal performing back to back for one very special show.

Playing London for the first time in nearly three decades, reunited boogie metal legends VARDIS will be launching 200 M.P.H. EP, their first new material since Vigilante in 1986. Since their much anticipated return last year, the power trio have meticulously honed their live act to new heights of hard hitting heaviness, with that same raw energy that propelled them to some of the biggest stages in rock during the 1980's.

DIAMOND HEAD are one of the most influential Heavy Metal bands the UK has ever produced. The band has never rested on it's legacy of classic cuts, always looking to the future, consistently forging ahead, creating fresh musical ideas, coupled with their high powered, intensive, aggressive in your face live performance.....

Hoplite Records is privileged to bring VARDIS and DIAMOND HEAD together for this unmissable night of Metal for the masses. Both bands are proud of their roots in NWoBHM and have endured beyond it as two of the most original and powerful voices in British Metal. On Saturday 18th July 2015 both will join forces to rock Bush Hall.
***