Archives
Red Eye release 20/05/16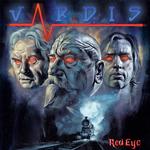 4 Mar 2016
The fifth Vardis album, RED EYE, will be released worldwide on May 20th 2016 on Red Coloured Vinyl LP, Digipack CD and iTunes.
The LP version includes a bonus CD, Digipack version includes a 12 page booklet, poster and two bonus tracks (one exclusive) and iTunes version includes two bonus tracks (one exclusive). The cover art has been painted by acclaimed artist Graham Humphreys, who has previously produced artwork for Hammer Studios and posters for Nightmare on Elm Street, Basket Case, The Evil Dead and Evil Dead II.
Full tracklist for all formats:
6. Back To School
7. Jolly Roger
10. 200 M.P.H.
Digipack
12. 200 M.P.H.(Reprise)
iTunes